Easter, direct to your phone!
Chaos has erupted in the Middle East. A carpenter turned teacher has divided, families and every community group. Anyone following him is under fatal threat. The movement's now gone underground. And you can be part of it - with messages sent straight to your phone from five private contacts at the centre of the movement - via SMS & Facebook Messenger.
Text 'Holy' to 0429 993 477 to join
This is a free service - you will only be charged your standard SMS rate by your own mobile provider when you SMS to register.
What is Easter Holytext?
Instead of just hearing about the events of Easter, we want you to be directly involved with Jesus' closest friends - right as the events unfold. From Palm Sunday, 25 March through to Easter Monday, 2 April you will receive text messages from different characters along with a link to a short Bible reading each day. Pictured here is an example from last year's Easter Holytext - and we've made it even better this year!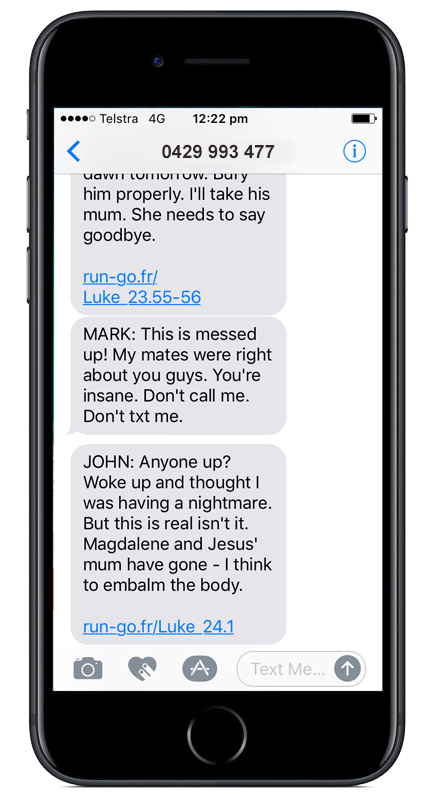 Pushed to the extremes, five radically different followers of Jesus pour their hearts out to you. The movement's under threat. An assassination attempt is underway to kill their leader. How will they ever survive? What can they do to protect him? Themselves? They used to hate each other, now they're clinging to you and each other to survive.
Your mobile number submitted for the purposes of this campaign will be removed from the Bible Society Australia Group's database on 25 April 2018 unless you indicate that you are happy to receive further texts from us.
Our full privacy policy can be found here.
Frequently Asked Questions
Sharing the Bible for over 200 years
Our vision is to see all people engaged with the Bible in a language they can understand, in a format they can use, and at a price they can afford or enjoy for free. We're Australia's longest-living organisation and we're committed to advocating for the Bible across the world.