Text FOLLOW to 0429 993 477 to join!
Walk with Jesus this Easter with FREE real-time texts from his followers. It's a chance to rediscover what it means to follow Jesus. Text today and we will share with you the story that changed the world forever.
If you prefer to subscribe via Facebook Messenger instead then click here. Also, see below to read full terms and conditions of participating in this experience.
What is Easter Holytext?
Instead of just hearing about the events of Easter, we want you to be directly involved with Jesus' closest friends - right as the events unfold. Over Easter, participants received text messages from different characters along with a link to a short Bible reading each day. Pictured here is an example from 2017's Easter Holytext.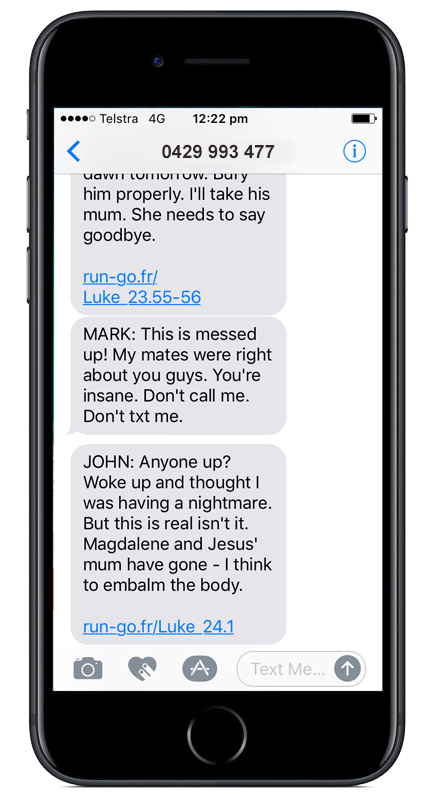 Your mobile number submitted for the purposes of this campaign will be removed from the Bible Society Australia Group's database on 1 July 2019 unless you indicate that you are happy to receive further texts from us.
Our full privacy policy can be found here.
Frequently Asked Questions
Terms and conditions:
SMS version of #IWILLFOLLOW Holytxt is valid for Australian mobile numbers only.
If you subscribe to the SMS version of Easter Holy Text, you will only be charged for your registration SMS's and any further SMS's you send to us. You will be charged your usual SMS rate by your mobile service carrier. You will not be charged for any texts you receive. No charges are incurred for the Facebook Messenger version of the experience.
By subscribing to #IWILLFOLLOW Holytxt you agree to allow Bible Society Australia Group (including Koorong) to contact you. For Bible Society Australia Group's full Privacy Policy click here.
Sharing the Bible for over 200 years
Our vision is to see all people engaged with the Bible in a language they can understand, in a format they can use, and at a price they can afford or enjoy for free. We're Australia's longest-living organisation and we're committed to advocating for the Bible across the world.