Our mission
---
Bible Society's Remote and Indigenous Ministry aims to see Indigenous people come to a relationship with God through his word and to live committed and growing Bible-focused lives.
To reach this goal Bible Society Australia:
Publishes Indigenous Bibles;

Supports the recording of Indigenous Scripture into Audio;

Develops culturally appropriate Scripture resources; 

Provides support to those translating the Bible into local heart languages; and

Distributes Scripture resources to communities through our Scripture Grants program
Acknowledgement of Country
---
We acknowledge the First Nations People as the Traditional Custodians of this land we now called Australia on which we live, work and call home. We pay respect to all the First Nations people, we recognise and respect the rich cultural heritage, beliefs and spiritual relationship with Country, passed down through generations. We acknowledge the creator of this beautiful land, God and acknowledge the Elders both past and present who have cared for this creation with respect and reverence. We pray that God (our Creator) would lead us down the path of Reconciliation for all Australian people as we live together in unity and harmony.
News from the Pitjantjatjara Old Testament Translation team
Bible Society's Dave Barnett writes: "Most of my work the last few months has been in the books of 2 Samuel, 1 Kings, Zechariah and the Psalms. The translators are continually encouraged, amused, and challenged as they work through these parts. The Jeroboams and Rehoboams and Ahijahs and Abijahs of First Kings have kept us on our toes, making sure we get the correct king attacking the correct opponent, and the right prophet denouncing him!
Read more
Anne Jack (translator) is about halfway through a first draft of 2 Samuel. I've just finished front translating Zechariah for Inawinytji Stanley. And Inawinytji Williamson has finished the first section of Psalm 119 (the "Aleph" section of this acrostic poem.) Psalm 119 seems to allude to Psalm 1 in many ways - the blessed person who delights in and meditates on God's law. But all the crises of life that are hidden in Psalm 1 are revealed in this long Psalm. God will bear his fruit through the one who meditates on his Word in the midst of strife, it seems.
Your statutes are my delight;
they are my counsellors.
I am laid low in the dust;
preserve my life according to your word!"
(Psalm 119:24-25)"
New Revised Pitjantjatjara Shorter Bible out now!
The new revised Pitjantjatjara Shorter Bible is now available in Koorong book stores around the country. Tjulyata Tjilya (Pitjantjatjara translator) visited the Adelaide Koorong store and was so excited when she saw the new Bible she rang her friends to share the good news.
New Indigenous Bible translators being equipped at Nungalinya Bible College
An Introduction to Bible Translation training workshop - a new inclusion in the Nungalinya Diploma of Translation course – was held in Alice Springs in November. Paul and Ann Eckert attended as teaching support for the Pitjantjatjara participants. Between 6-11 participants attended each day from five different central desert language groups (Pitjantjatjara; Pintupi-Luritja; Alyawarr; Western Arrarnta and Anmatyerr). This is the second 'In Community' workshop that Nungalinya has ran this year and the College is planning to run two workshops each year in different communities. Gunbalanya and Groote Eylandt are likely to host this exciting new initiative next year.
Monthly Prayer letter
---
One of the best ways you can support our indigenous ministry is through prayer. Our monthly prayer letter includes the latest prayer requests for our RIMS work as well as other Bible Society initiatives.
Language Resources
---
A lot of work is taking place to capture Indigenous languages and integrate them with Bible resources. While this important work is very much still underway, we are blessed to have the following resources available:
Website:
Apps: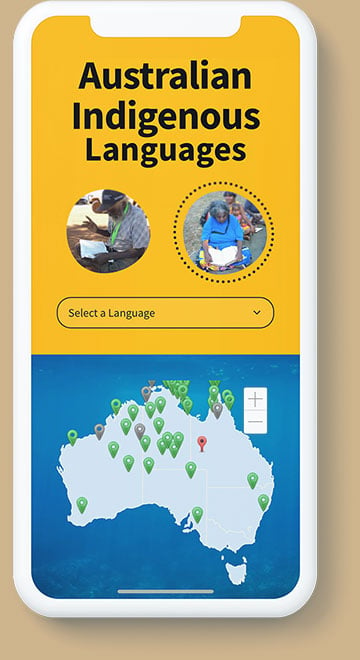 Remote & Indigenous Ministry projects and updates