09/05/2019
"The Great 'Yes' to life" continues its reach on 73rd anniversary of United Bible Societies
On 9 May 1946, nations ravaged by the horrendous destruction of property, place and people, came together to form the United Bible Societies (UBS). Representatives from Bible Societies in 13 countries gathered in Elfinsward, a retreat centre in Haywards Heath, England.
Their nations had been at war with each other, and several delegates had survived years in prisons or concentration camps. They were united in their desire to bring the world together through God's word.
Czechoslovakia's representative at this seminal meeting, Rev Dr J. Krenek, spoke of the hope that is found in the Bible.
"The deepest need of the human soul is for the positive – the great 'yes' to life. There is no book in the world other than the Bible which replies to that deepest longing."
Seventy three years later, UBS consists of 150 Bible Societies operating across 240 countries and territories and remains committed to its core purpose.
Last year alone, Bible Societies distributed more than 38 million full Bibles around the globe. Our small region of Oceania distributed the largest proportion of full Bibles, with four out of every five Scripture items distributed being complete Bibles.
By comparison, globally just one in 10 of every Scripture item distributed is a Bible.
Bible Society Australia is strongly committed to all people having access to God's word. As a result we offer Bibles in a variety of price ranges and for no cost to prison chaplains, Alpha attendees, parents of infants and others.
People in nations like Papua New Guinea, Micronesia and the South Pacific, where Christians account for 90% of the population, also have a strong preference for full Bibles.
Quick quiz: Which language would you think topped the list for the most Bibles distributed in 2018?
Did you say Chinese? You would be wrong. It came in fourth, with 3.4 million full Bibles printed. Perhaps English? Again, no. 5.6 million English language Bibles were distributed around the world last year.
A clue you ask?
Nine out of 10 Latin Americans are Christians. 7.2 million Spanish language Bibles and 6.3 Portuguese Bibles were distributed to Christians and new Christians last year.
Since 2010, United Bible Societies (UBS) has provided more than 305 million full Bibles to the world.
The most significant change in Bible availability is via the Web. In 2018, 17% of all full Bibles were internet downloads – and for global languages such as Spanish, English and Portuguese, Scripture downloads all topped a million.
Statistics are fun, but ultimately Bible Society Australia and our partner agencies around the world are driven by the desire to introduce people to God's transforming love as uncovered in His Word.
The delight captured in the face of 30 year old Song Cuiting leaps off the page as she shows off Chinese language Bible. Song is the leader of two Bible study groups, both of which are held every day! One group is held at her home after her two children have gone to bed. The other group meets via social media. They speak together on the mobile phone using the WeChat app, for half an hour every lunchtime.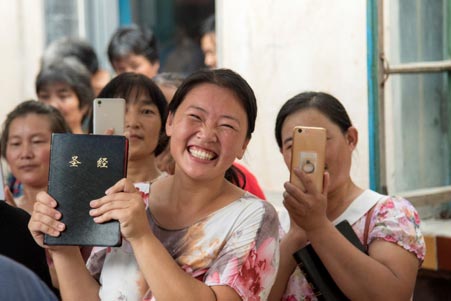 Photographer credit: [email protected]
---
For more Bible facts, or stories of lives transformed through access to God's Word, please call Penny Mulvey, Head of Communications and Public Affairs, mob: 0403 063 499
Related Media