The theme of the 2023 Children's Book Council of Australia's (CBCA) Children's Book Week®, 'Read, Grow and Inspire' is a wonderful encouragement for children to read, and also aligns beautifully with our hope for children as they read the Bible. 
Displays and dress-ups help encourage a love of reading
Each year since 1945 the CBCA has brought children and books together across Australia through Children's Book Week ®. During this time schools and public libraries spend the week celebrating books and Australian children's authors and illustrators.  
This week, from Saturday, 19 August to Friday, 25 August 2023, classroom teachers and librarians are creating colourful displays, developing activities, running competitions and telling stories related to the theme – Read, Grow and Inspire – to highlight the importance of reading. Students will be dressing as their favourite book character when attending daycare, pre-schools and primary schools around the country. 
How can we "Read, Grow and Inspire" as we read God's Word with our children?
Having focused on the theme of 'Read, Grow and Inspire' for Children's Book Week®, parents – and grandparents, aunts and uncles and family friends – may be wondering how the theme can carry over into reading God's word with our children. It is the hope of all Christians that as we read the Bible, we grow in our faith, and in who God wants us to be, as well as being inspired by God's love and his character. 
Which Bible editions work for the littlest Bible readers?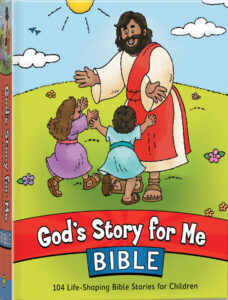 Parents reading to babies and toddlers may enjoy 'God's Story for Me'. This engaging Bible is the gift given by Bible Society Australia to Bibles for Bubs families, who are starting their families out on a lifetime of Bible reading. The Bible tells 104 essential Bible stories, accompanied by illustrations, conversation starters to connect the Bible stories to your child's life, and stickers for children to enjoy. The Bible receives wonderful feedback, such as from Columbine who says, "Interest level and attention span are so hard with little ones. This Bible is really well suited to the toddler age group with short and easy-to-follow stories and good pictures." Ali says, "The Bible…[is] really well-pitched for our young daughters, and accurately present the accounts of the Bible in an engaging way." 
Other helpful Bibles for babies and toddlers are:
The Beginners Bible
The Rhyme Bible Storybook  
For pre-schoolers and kids learning to read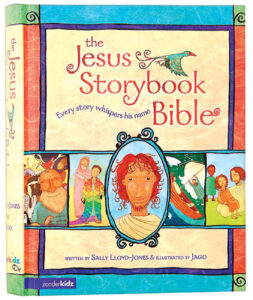 Millions of parents and kids have been blessed by sharing 'The Jesus Storybook Bible' together. Sally Lloyd-Jones masterfully retells key Bible stories in a way that brings the focus to Jesus, and her repeated refrain teaches and assures children that God loves them with a 'never stopping, never giving up, always and forever love'. The illustrations which accompany the stories, from Jago, are unique and engaging.  
If your younger kids find it hard to sit through a whole Bible story from the 'Jesus Storybook Bible', you could consider reading them one of Sally Lloyd Jones' Bible stories for toddlers, such as 'Found', 'Near', and 'Loved' which retell Psalm 23, Psalm 139 and The Lord's Prayer, and are easier for the littlest Bible readers to stay focused on. 
Another Bible popular for young children is The Illustrated Children's Bible. Koorong's Children's Books Buyer, says, "This is one of my all-time favourite Bible storybooks. It offers a very good sweep of God's word, with all the old favourites included. The striking cover and illustrations throughout this book are a highlight; each one not only illustrates the text but also contributes something new to the narrative. The Anglicised English text is easy to read, and with nearly 300 individual stories it offers a version of the "read the Bible in a year" genre for younger children to 9-year-olds."  
Another helpful Bible for pre-schoolers:
The Big Picture Story Bible 
For those starting to read for themselves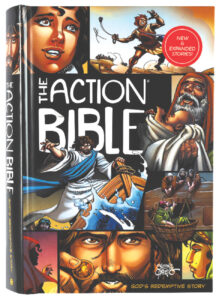 If you have primary-aged children who are just becoming fluent with reading, they may be enjoying the confidence that comes with actually reading their children's story Bibles!  
When they're ready for something a little more challenging, it's worth checking out The Action Bible. This comic-style Bible is a step forward from storybook Bibles, with more than 250 fast-paced narratives in chronological order, following the Bible's historical flow and building up to the thrilling climax of God's redemptive story. Kids will delight in the adventure as they read the narratives and devour the illustrations by Sergio Cariello, who earned international recognition for his work with Marvel and DC Comics.
 
For those ready to dig deeper and delve into a full Bible translation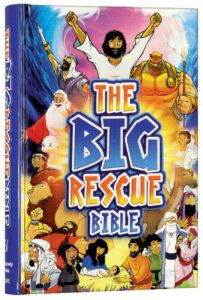 The Contemporary English Version is a great Bible translation for kids who are beginning to read or are new to reading (roughly, ages 6-10). For an Australian illustrated Bible, the CEV Big Rescue Bible features the full text of the easy-to-read Contemporary English Version, plus engaging colour cartoon illustrations of 20 Bible stories interspersed through the Bible to grab the attention and engage young readers. It's loaded with aides that make Scripture fun and accessible. 
Other Bibles to consider:
NIV Kids' Visual Study Bible Full-Colour Interior
NIV Adventure Bible
ICB International Children's Bible