More than 2000 registered!
Congratulations to all our 2018 babies registered to our Bibles for Bubs programme.
If you would be interested in any future programmes like Bibles for Bubs just fill in the form on this page.
Give the precious child in your life a solid start on the Bible.
Bible Society Australia wants every Australian engaged with God's word - even from the very start of life! That is why we are giving 2500 children born in 2018 free special gifts through 'Bibles for Bubs'.
By signing up your baby to 'Bibles for bubs', your child will receive a Toddler Bible; then an annual Birthday card with suggestions to encourage their faith and family Bible reading. When they turn five years of age they will receive another beautiful gift, this time a CEV Big Rescue Bible!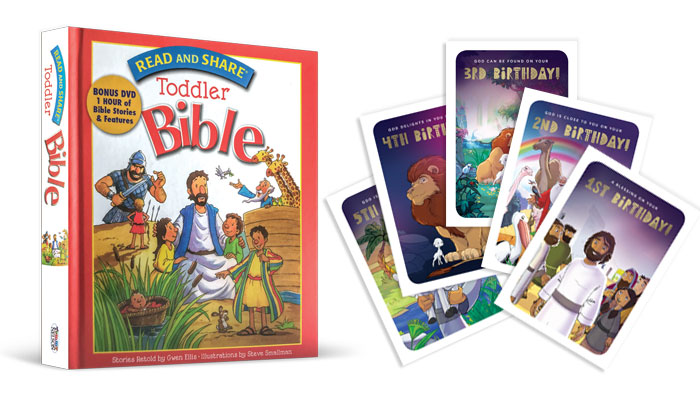 Established in Sydney in 1817, Bible Society Australia's activities take place as part of the United Bible Societies who operate across 200 countries and territories.
We are one of the most extensive mission groups in the world and do our work in partnership with churches, providing resources and Bible-focused campaigns and community programmes.
Frequently Asked Questions
Offer Terms & Conditions
Applications must be received by 12 April 2019
Offer only for children born between 1 January 2018 and 31st December 2018
Offer may only be redeemed once per child.
Bibles cannot be exchanged
Offer valid for deliveries within Australia only
Available to the first 2500 recipients only
If you are not the parent or guardian of the child you are registering, you must have parental permission to do so
By claiming this free offer, you agree to allow Bible Society Australia Group to contact you. Bible Society Australia's full privacy policy is here. www.biblesociety.org.au/privacy-policy
Find answers to common questions below. For any further enquiries please email [email protected]