Open The Bible with us this Easter
Join us in the Word this Easter as we follow Jesus' last week in the book of Mark. Mark's Gospel uniquely records it day by day. What do we discover about who Jesus is?
Free book from your nearest Koorong store
---
Remember Abby and her friends,  those kids so full of questions in our little book with a big Easter message? Well, just visit your nearest Koorong store to pick up free copies* for your church to use. Together, let's share the resurrection message with children - and their families who may actually not know there's more to Easter than a cross on a bun.
Or you can buy copies of the book online.  
* Limited stock available. Offer valid in-store only while stocks last, from now till 5 April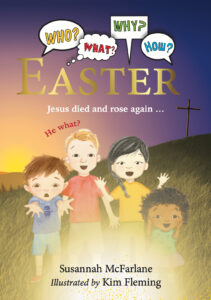 Watch our Easter Animation Video
---
Check out our 'Who, What, Why of Easter' animation video which you can download and use for free - our gift to you! Show it at an Easter program or share it online with your congregation, and they can share it with their networks too. Everyone loves an activity sheet, and we have four for kids at Easter.
Thoughts on Jesus from CPX
---

Easter is about Jesus, and He is all about life itself. 
In 2009 more than 2000 Australian churches held his banner high in our Jesus. All About Life (JAAL) campaign. Since then JAAL has been an active online platform sharing encouragement throughout the year.
For this Easter, you'll see some fresh content on our Facebook page and we've included some shareable images below so you can join us in sharing Jesus with others. Keep an eye out for new resources every Christmas and Easter as together, we lift high the name of Jesus!
On your phone, tap to open the image, then tap and hold to download