On the ground help and hope for Ukrainians
"Our work has changed just as life has changed in Ukraine," says Vasyl*, Director of the Western Branch of the Ukrainian Bible Society. "In all areas it was a shock and a stupor, we did not know what awaited us, how we would work. But over time we realised that we are needed now in this situation, and the Bible Society together with the churches can do much to support people, refugees, Ukrainians who are suffering."
From the outbreak of conflict, Bible Society has utilised their unique position to directly provide practical aid to those in need. In most cases, the Scripture distribution field trips are combined with partners' efforts to provide food, practical aid as well as shelter to displaced people.
A couple of months into the war, a Bible Society team, together with ministry partners, visited the hard-to-reach town of Tsyrkuny north of Kharkiv. Bible Society leader Petro* recalls, "Since it was the first visit, most people weren't really open, being suspicious and scared. The period of occupation has significantly affected them. Yet, and this is huge, in case of these ladies and most of other people,
it was when we offered the Bible when this distance started to shorten…".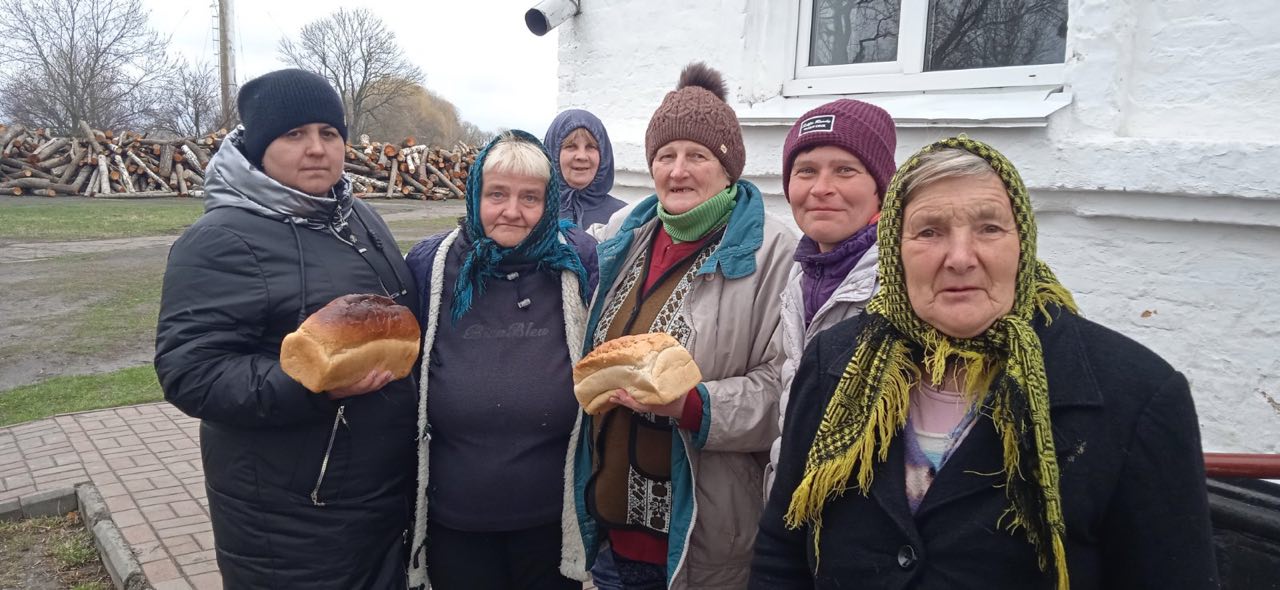 Spiritual Food
When sharing the physical food, the volunteers also shared spiritual food: they prayed, shared God's word, and supported people in these difficult times. Petro explains that while the practical aid and food were important, it was combining the practical care with Scriptures that calmed people's suspicion and fear. "In general, people are terrified, exhausted not so much physically as emotionally and spiritually. Many women wept, especially when we prayed for them and gave them printed and audio Bibles – it was a truly a wonderful gift for them at this time!"
"Along with giving these people shelter, housing, food, clothing, and lodging, they can also be given confidence and hope for the future," says Vasyl. He goes on to explain that peace and tranquillity of mind are both found in the word of God, which Bible Society have the privilege to print and distribute in Ukraine. One volunteer who was loading supplies to be transported to a province where towns and villages were being regularly shelled said,
"The key in this load is the word of God, which is an equally nutritious food, spiritual food!"
At the end of July, Bible Society Ukraine's Deputy General Secretary Anatoliy shared "Huge problems are becoming more and more visible. There are now almost 14 million internally displaced people and every day we receive calls from churches who have groups of refugees from many cities. They need food, medical care and so on.
"The Trauma Healing Program is the champion now in our ministry! This has also become very popular among the Orthodox churches. The Greek Catholic Church has asked us to run this training three times for their priests only. And every week, our teams have different Trauma Healing training sessions in different places in Ukraine."
At the beginning of August, Bible Society Ukraine began a weeklong Trauma Healing program for the first time, for 75 children aged 10-14 years old. These children are from a previously occupied territory, and many have lost their parents and other relatives.
Bible Society's Rostyslav says that, together with churches, chaplains and volunteer organisations, "…Bible Society continues to work hard to bring physical and spiritual relief to our people, despite all risks…The good Lord is acting powerfully in people's hearts, and it is our greatest privilege to be participants of his work!"