Ariel's story is one of resilience, faith, and the incredible power of hope. Diagnosed with leukemia in March 2014, this eleven-year-old's life took an unexpected turn. However, Ariel's journey through cancer was not one marked solely by illness; it was a journey illuminated by the unwavering support of his family, the compassionate care of medical professionals, and his unshakable faith in God.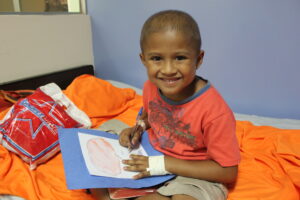 When Ariel was admitted to the hospital for the first time, he had a grim prognosis – leukemia had quietly advanced through his liver and bloodstream. Yet, Ariel's mother, Sonia Zelaya, remained steadfast in her belief that God was with them every step of the way. 
Before their hospital stay, the Zelaya family was already a part of a church community, attending weekly services.  While in hospital, they yearned for the communion of the congregation. Fortunately, spiritual support was at hand, thanks to pastors and volunteers work with Bible Society Nicaragua on the "Hope and Smile for Children with Cancer" project. 
"Time passed in highs and lows. I consider the hospital ministry developed by Bible Society comes from God. Families here long for devotionals because it is through the Bible that God makes us stronger, and in times of prayer, we have the opportunity to present our requests to God." – Sonia
In the midst of Ariel's hospitalisation, Ariel and Sonia found solace in prayer and Scripture. They experienced the joy and peace that emanated from their unwavering faith. Sonia reflects on those challenging times, saying, "Every day was another miracle of life, and our faith was based upon God being with us every time." 
Ariel's treatment journey was not without its trials and tribulations. But it was during these moments that the hospital ministry, facilitated by the Bible Society, shone the brightest. Families like the Zelayas turned to devotionals and the Bible for strength. Through prayer and faith, they could lift their concerns to God, finding the courage to face each day.  
When Ariel successfully completed his treatment, the doctors delivered the news they had all been praying for — he was in complete remission. The Zelaya family rejoiced, giving thanks to the Lord for this incredible miracle. 
Today, Ariel and his mother continue to visit the hospital for check-ups every three months. During one of these visits, Ariel shared his heart-warming perspective, "Before going to sleep, I ask God for all the children who remain in the hospital. It is difficult here because treatments hurt, and one has to be connected through IV or undergo chemotherapy. Today, I don't frequently come to the hospital with my mother. I enjoy coming here because I share my testimony of how Jesus healed me – how we went through harsh times, but God has helped me. And this helps a lot because my testimony brings hope to my friends that God will heal the cancer just like He did with me. Thank you for everything, and thanks to Him, I can smile at life, the life God allowed me to live, to serve Him once I grow up."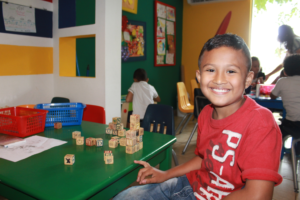 Ariel's journey serves as a testament to the power of faith, prayer, and community support in the face of adversity.
Through the "Hope and Smile for Children with Cancer" project and the unwavering love of his family, Ariel emerged from the darkness of illness to embrace a future full of hope and service to God. His story reminds us of all that, even in our darkest moments, there is light, and that light can guide us toward healing and renewed purpose. 
Will you help plant the seed of God's word to children like Ariel to help grow their faith in God?
Your donation will support Bible engagement and distribution projects designed to offer underprivileged children spiritual support, Bible-based literacy classes, and more, cultivating in their hearts a faith for the future.