Seven years in the making, Our Mob, God's Story is an exclusive, award-winning art book that celebrates the impact of the Bible on Australia's First Nations People, along with Bible Society's 200 years in Australia.
The art book, compiled by award winning author Christobel Mattingley and Bible Society Australia's Louise Sherman, showcases over 115 paintings by 65 Aboriginal and Torres Strait Islander artists from across Australia.
Cover artwork: Sacred Place by Safina Stewart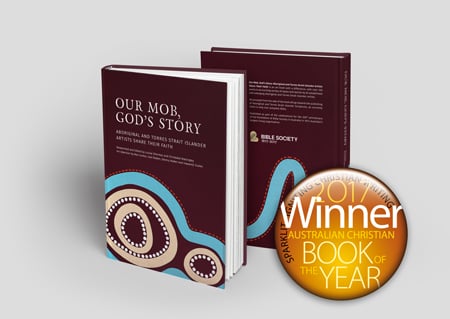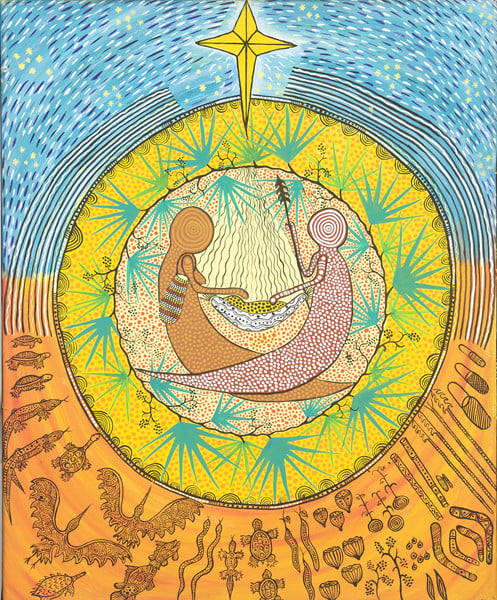 Artwork: Bright Star by Grace Kumbi
Our Mob, God's Story invites you to re-discover God's Story through the personal faith stories and artworks of Australia's First Nations peoples. The vibrant artworks are visually captivating and spiritually moving, depicting some of the most loved stories from the Old and New Testament Bible – from creation to crucifixion.
The glossy, hardcover art book is a wonderful keep-sake and reminder of Bible Society's bicentenary and how the life changing message of Jesus Christ continues to ignite hearts across our nation.
Bible Society hopes the art book will bring new understanding and respect for our Aboriginal sisters and brothers as we celebrate our diversity and common faith.
All artists have donated the use of their paintings so when you buy a copy of Our Mob, God's Story 100% of all profit goes directly towards Indigenous Scripture publications, translation and ministry.
The softcover book is available for pre-order at Koorong.
What do others have to say about Our Mob, God's Story?
"The book's powerful expressions by Indigenous artists - beautifully woven into their own narrative - help us celebrate our diversity and our common faith. They proclaim God's story in ways that should cause us to reflect and respect."
- Tim Costello, Chief Advocate, World Vision Australia
"The Dreaming is compatible. The faith is kept. The stories are told and illustrated. This is a beautiful, timely and loving record of what a friend Jesus has in Aboriginal and Torres Strait Islander peoples. Bravo!"
- Peter Goers OAM, ABC Radio Adelaide, SA
"Healing. Here we have two hundred years of this healing held within the pages of one book. Brush strokes painting with words ask colours to join them in making medicine, the kind that can only come from faith. Faith held in old hands and young hearts. Hands, shaped by sun, earth, wind and water and new hearts beating from the sounds of old rhythms to tell stories of pain, loss, anger, frustration, understanding and most of all forgiveness. And that is what I feel when I see and read each page. Our Mob, God's Story is a great read of faith, and one we should all enjoy."
- Boori Monty Pryor, award-winning author of Maybe Tomorrow, Inaugural Children's Laureate 2012
'Our Mob, God's Story' in the news
Hear artist Safina Stewart's interview on 89.9 Light FM