There are many ways to support a cause you are passionate about, and for 37 years, Bible Society supporters have been taking to their bikes to do just that.
Since the first Bike for Bibles ride organised by the late Bob Forrest in 1984, Bible Society supporters have used their enthusiasm for challenging bike rides to also garner support for Bible work.
A significant challenge, motivated by a wonderful cause
Registrations are open for our 2022 Bike for Bibles event in Tasmania. On January 27 until February 10, riders will challenge themselves to cover 1,600 kilometres of picturesque Tasmanian countryside. Their route will include Riverbend, Burnie, Cradle Mountain, Ulverstone, Poatina, Launceston, Scottsdale and St Helens, finishing again in Launceston.
Preparations for the ride have already begun, with committed riders signed up and busy with training for the ride, as well as fundraising.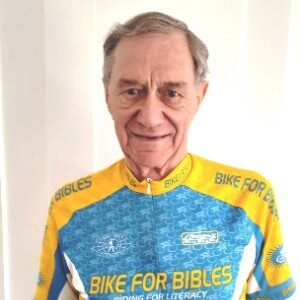 Ian Duckham is one of the riders who is already training, building up kilometres on his bike. "Eighteen years ago, I completed an Adelaide to Hobart ride for the Bible Society that traversed much of the route we will cover," he says. "I am well aware of the significant challenge it poses."
Yet Ian is determined, having maintained his cycling fitness – although not necessarily speed, he admits. "I am confident that with a good training program, I can complete the course." Why is Ian so determined? "I am highly motivated by the wonderful cause we will be riding for," he says. "I will be doing my utmost to ensure my sponsors get a good return on their investment." Ian has already met and exceeded his initial fundraising goal of $2,500 and is still receiving support.
Transforming lives through literacy
Ian and others like him are passionate about Bible Society's work in Cambodia, which is helping to transform lives through literacy, by teaching children how to read.
These classes are so vital to the children who have the opportunity to attend, such as the class of 12 young students in Talat village in the Kompong Chhnang province. This class included Srey, a twelve-year old girl who was struggling to survive with her elderly grandparents, and desperate to learn to read, so she could get a good job.
A Bible Society of Cambodia staff member relates their visit to the remote village where the literacy course was begun: "It took us two hours by car and 20 minutes by ferry on the river Tonle Saap to reach Talat village in the Kompong Chhnang province. It (was) the rainy season … so the vegetation (was) very lush and water level on the river (was) high."
As our Australian bike riders cover their kilometres, it will be these remote villages, with little girls like Srey, who will be on their heart. It is these children, desperate to transform their lives, who are motivating our riders to raise support for their ride.
Sharing the passion
If your heart stirred by the challenge and by the cause, why not consider joining those involved in the 2022 Bike for Bibles Tasmania?
Either as a rider – registrations are open until January 1, so there is still time to prepare – or in offering your support to those who have committed themselves – their hearts and bodies – to supporting literacy work among Cambodian children.
What you need to know
When: January 27th – February 10th 2022
Costs: $10 registration and $700 on road costs.
More info/to register/to pledge support for riders: Tasmania Bike for Bibles