In 2022, the third consecutive year marked by global disruptions, Bible Societies around the world completed Scripture translations in 81 languages used by 723 million people.
From Brazil to Bangladesh, 57 language groups – a total of 100 million people – received first Scripture translations. New or revised translations were completed in another 25 languages used by over 623 million people. These provide Scripture access to language communities whose needs are no longer met by previous translations.
"The unique and powerful story of UBS has Bible translation at its heart. Our translation teams are at the forefront of our mission as they strive to unlock the transforming power of God's
Word for their communities. It is a laborious task which requires sustained commitment and dedication – truly a 'labour of love'. May Paul's words to the Corinthians encourage each one of our translation colleagues to 'remain firm and steadfast'," comments Dirk Gevers, UBS Secretary General.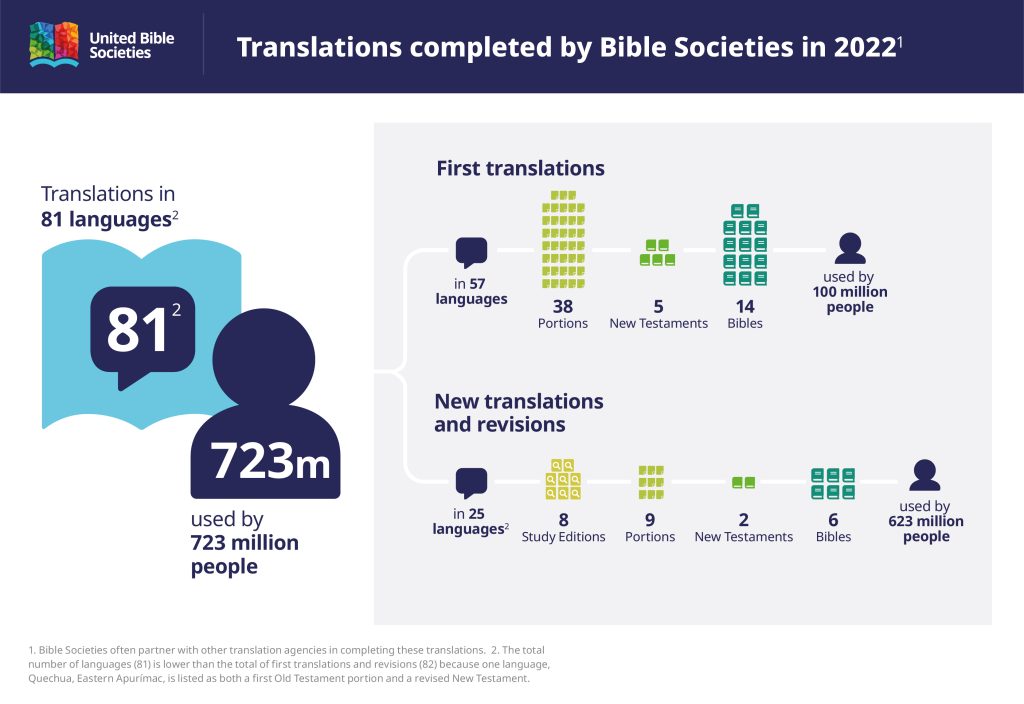 First translations for 100 million people
In 2022, 100 million people received first Bible translations. Among the 57 first translations published by Bible Societies last year, there were 14 first full Bibles.
100 million people received first translations
Five communities from three continents welcomed the first New Testament in their language – one in Latin America, one in Africa, and three in Asia.
From 5 million Ethiopians who speak Arsi Oromo to 6,000 Indonesians who speak Taghulandang (Sangir dialect), almost 13 million people received a first translation of the full Bible in their heart language.
First or additional portions of Scripture were also made available in another 38 languages across the world, including colloquial Egyptian, spoken by 77 million people, and Lule Saami, spoken by 2,000 people in Sweden.
14 first full Bibles and 5 first New Testaments
First full Bible for Vietnam's second-largest people
The Tày people are the second-largest ethnic group in Vietnam with a population of over 1.8 million who are scattered across the country's 63 provinces and cities. There was a great need for the Tày Bible among the Tày Christian communities who had a deep desire to learn the Word of God and share the Gospel in their heart language. The first Tày Bible, published at the end of 2022, is the answer to their prayers.
5.9 billion people have the full Bible in their language
Thanks to the efforts of Bible Societies and other Bible translation agencies, the full Bible is available in 733 languages spoken by 5.9 billion people, as of the start of 2023. Over 70% of these were translated by the United Bible Societies Fellowship.
Another 1,622 languages have the New Testament, and 1,255 have portions of Scripture.
Altogether, 7.2 billion people have some Scripture in their mother tongue.
5 billion people do not have the full Bible
A total of 3,776 languages – more than half the world's languages – used by 201 million people, still have no Scripture at all. 1.5 billion people do not have the full Bible.
That is why United Bible Societies and other Bible translation agencies are continuing to work towards the goal of making Scripture available in every language. Greater collaboration, developments in technology, and investment by donors have all led to unprecedented momentum in Bible translation in recent years.
51% of the world's languages have no Scripture at all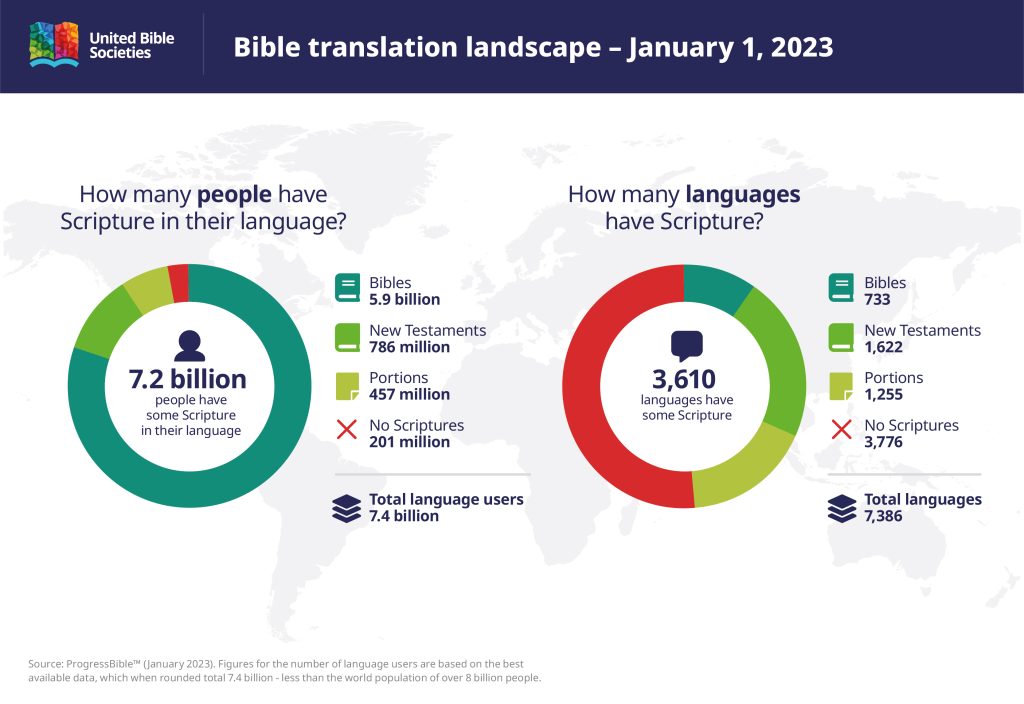 A vision to complete 1,200 translations by 2038
To steward this momentum, since 2018, the United Bible Societies Fellowship has been focused on a bold vision – to complete 1,200 Scripture translations by 2038. Of those, 880 are first translations, and another 320 are new or revised translations.
So far, 133 translations have been completed and 333 are in progress. Work on the remaining 734 is yet to begin.
"The effort and resources needed to translate the Bible text into a language spoken by millions of people, or a language spoken by a few thousand, are still the same. We are committed to completing well over 1,000 Bible translations by 2038. Although the last three years were challenging on a global level, we will persevere and endeavour to complete the task. We are continually grateful to Bible translators for their hard work and to donors for releasing funding for translation ministry," declares UBS Executive Director Bible Ministry Alexander M. Schweitzer.