In 2022, Bible Societies around the world demonstrated an extraordinary commitment to providing the hope of God's word to a world still in crisis. More than 166.4 million Bible texts were distributed, five times more than in 2021.   
 "Bible distribution is deeply ingrained in the core of our Fellowship, just as translation is. Ensuring that every individual holds a Bible is intricately tied to efficient distribution," says Dirk Gevers, United Bible Societies Secretary General.  
The UBS fellowship, made up of 156 Bible Societies, works in 240 countries and territories. Gevers continues, "Our supply chains span the entire globe, diligently operating to fulfil this mission. By distributing Bibles, we empower individuals and communities, fostering spiritual growth, and promoting the values of generosity, compassion, and unity which tie our Fellowship together."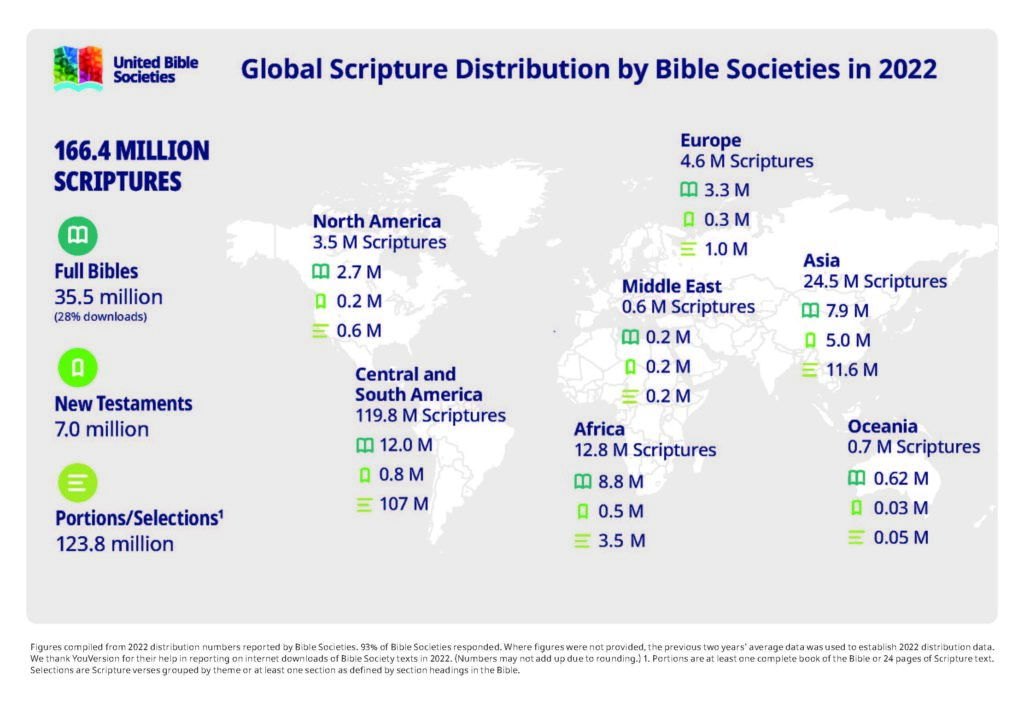 The United Bible Societies Fellowship continues to be one of the largest translators and distributors of Scripture in the world; around 70% of the world's full Bible translations have been provided by Bible Societies. 
Getting back to normal after the impact of COVID-19
After enduring two years of significant disruption to their distribution services, Bible Societies across the globe are steadfastly working towards regaining their momentum.  
A Solidarity Fund was set up during the pandemic to provide vital support to the Bible Societies most affected by the pandemic, and in 2022 it continued to play a vital role in the post-pandemic transition period. 
The global economic uncertainties continue to affect Bible distribution. Rising costs, shipping delays and stock shortages meant that distribution was still below pre-pandemic levels. Moreover, Bible Societies are still affected by ongoing supply chain challenges in 2022. 
However, the first signs of recovery are visible as both the distribution of the printed Bible texts and the number of downloads increased compared with the previous year. 
Bible downloads continue to grow in some regions
The number of Bible downloads followed an ascending trend. In 2022, 28% of Bibles provided were internet downloads, compared to only 21% in 2021.  
Some regions show a greater demand for Scripture downloads than others, with Central and South America leading the way with over 4.2 million Bible downloads, 42% of the overall 10 million Bible downloads. In Europe, 2 out of 3 Bibles provided were downloaded, compared to just 2 in 25 in Oceania.
Remarkable distribution efforts in 2022 include:
China

Partnership saw an

increased sale of local Bibles from 1.2 million to 1.8 million

;

Cambodia doubled its Bible distribution

(from 12,865 to 25,694) and Scripture Portions distribution (from 19,896 to 36,386), with an enormous increase in New Testament distribution from 1,187 to 202,171.

 
Top 10 Bible distributors of 2022
Nearly two-thirds (62%) of all Bibles distributed in 2022 were provided by Bible Societies in 10 countries.  
Brazil tops the list of Bible distributors, with 4.8 million Bibles. 

 

It is followed by the USA (2.6 million Bibles)

 

India (2.5 million Bibles)

 

Nigeria (2 million Bibles) and 

 

China (1.8 million Bibles).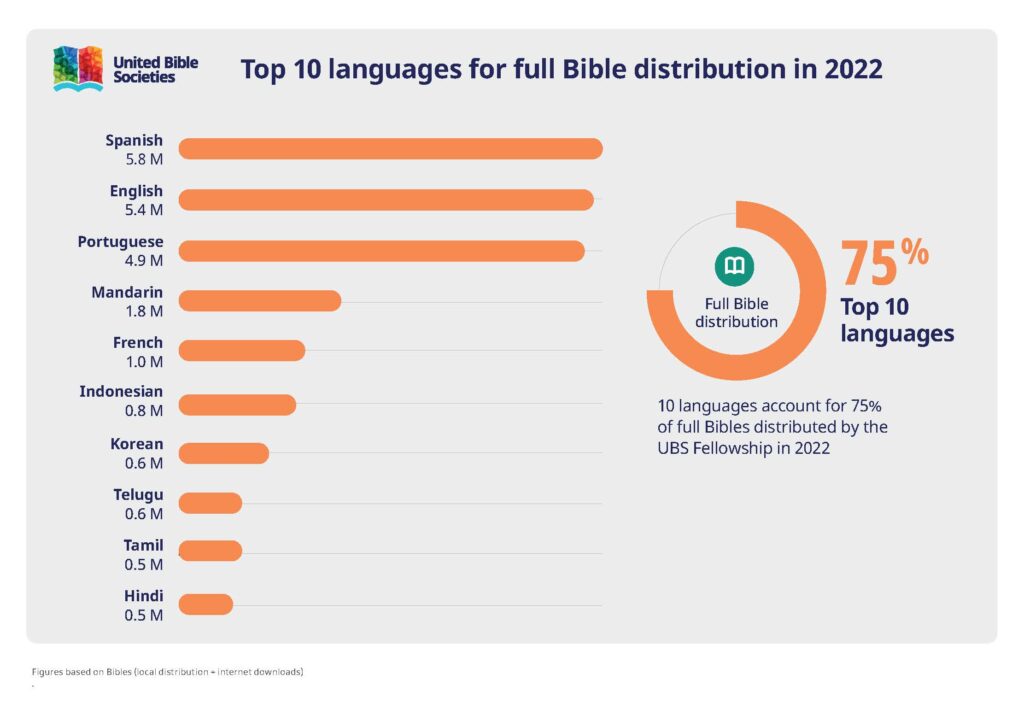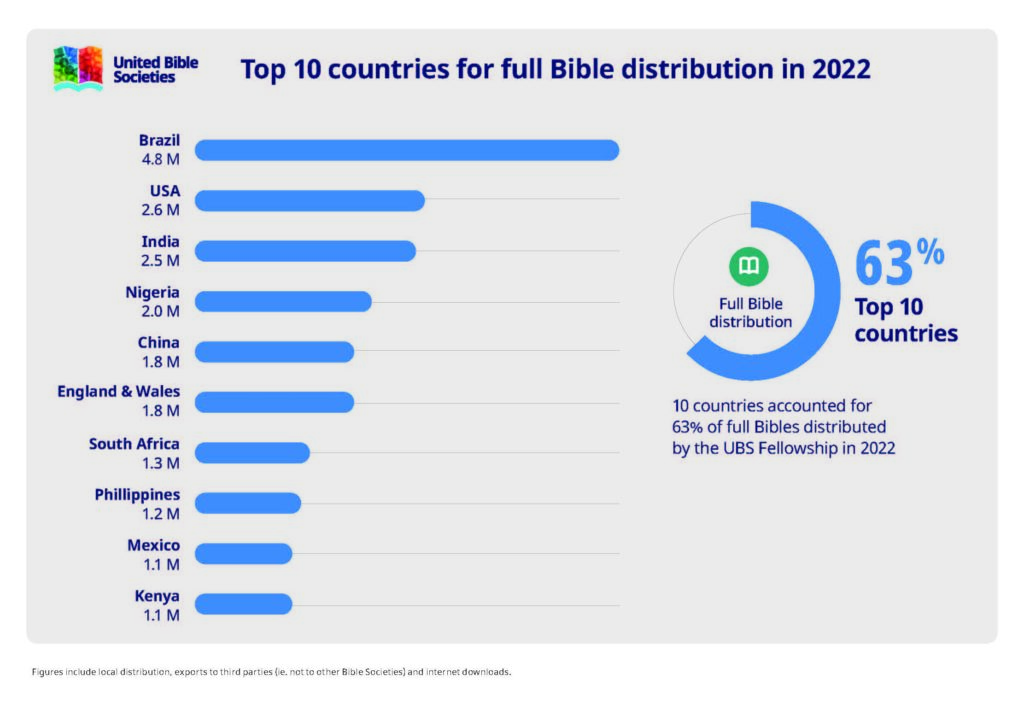 Among the new arrivals in the top ten distributors is Kenya which successfully distributed more than 1 million Bibles in 2022. 
After a plateau due to COVID, China is again among the world's top five Bible distributors with 1.8 million Bibles distributed in 2022.