The Gift of Literacy brings light in Pakistan
Often, living as a non-literate person can be like living in darkness. This was the case for Beena, a mother and grandmother who was widowed in 2000 and living in Pakistan.
Beena has lived for 76 years in her town, where, until recent years, the area did not observe the law and orders of the Government of Pakistan; there was no ban against carrying and using ammunition, and the kidnapping of children was a horrifying reality.
Women were not allowed to go out independently; even when covered with the Burkha, women could only go out with a close male relation.
When Beena was young, there was not a single school for girls in the region. In fact, education for girls was considered immoral. Education for women was impossible. Beena recalls,
"I was very fond of education from my childhood but could not have an opportunity to learn read and write."
Instead, she found work as a cleaner in a hospital and worked there for 46 years until she retired in 2007.
Change began in her town in 2014 where it started to observe the law and order of Pakistan.
In a way, light began to dawn for Beena and her family, who are Christians, though she says, "the Christians are very less numbers in this area". One day, Beena's pastor was visiting her home, as a part of his regular monthly from Peshawar city. On this day, an unexpected opportunity was presented to Beena.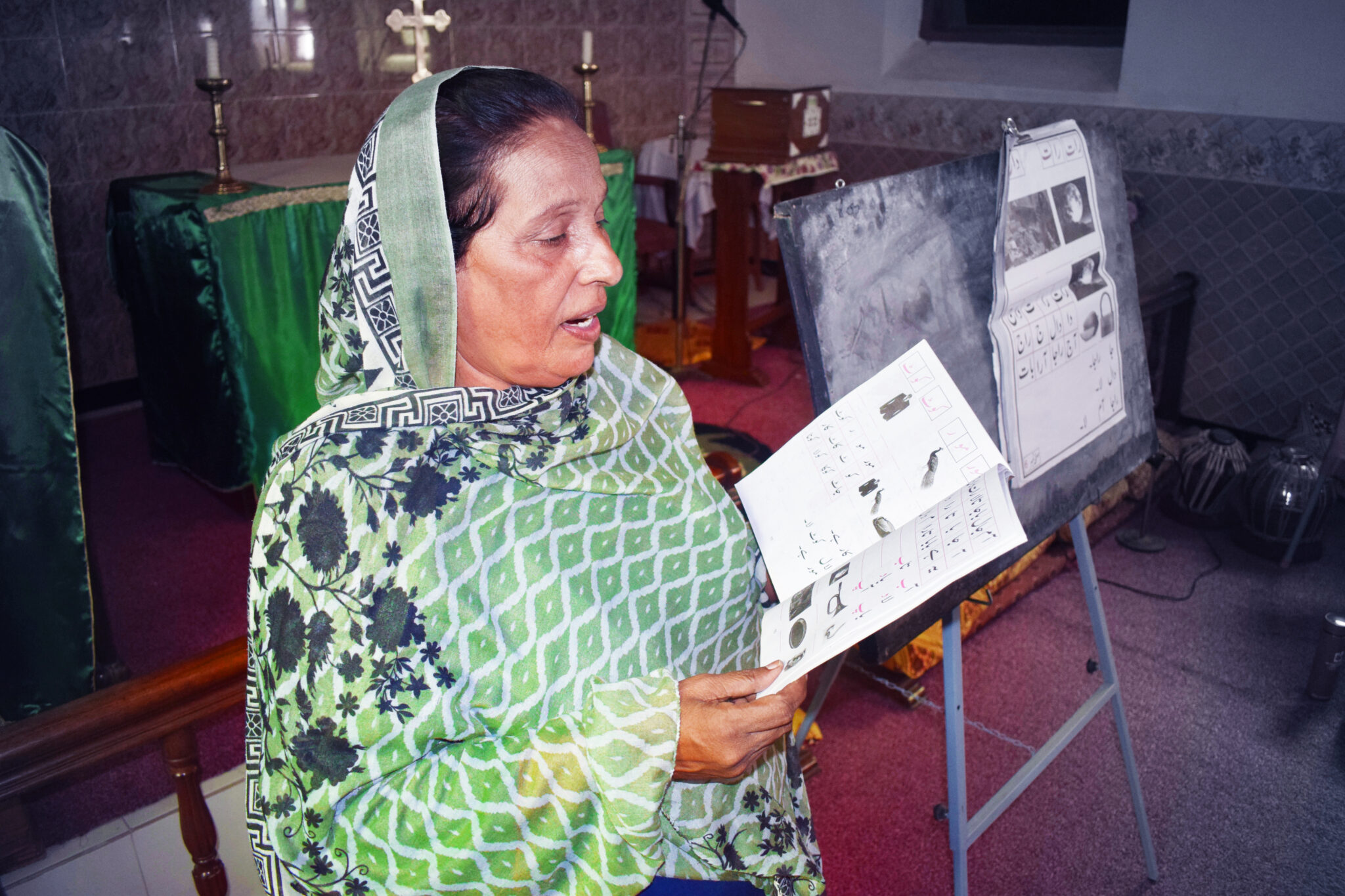 "My pastor shared that Pakistan Bible Society was opening an adult literacy class in church. He also shared that his wife Robina will teach the classes. He said, 'If you agree to join and learn to read and write, then I will take this responsibility.'"
Beena immediately agreed and went to visit her eldest son. She did not merely take the opportunity for herself, but also the women closest to her.
"I asked if he allows us (me, my daughters in law and granddaughters) to join the classes."
Her son championed her wish for an education, going to the local leaders for permission to start the adult literacy class, and for the women in his family to join.
The local leadership – part of the old system, but still with some authority – allowed the classes to begin. The light of literacy began to shine for Beena.
"We started our class in February 2022," says Beena. "We are thankful to the Lord that eleven ladies from my family are now able to read the Bible." Education – literacy – was finally accessible for Beena and other women. With their new skills, they began to seek God through his word.
"We started a Bible study group in the family and are reading at least two to three chapters daily."
Smiling, Beena shared that with their new skills, they began with reading the New Testament; but, she says, "I believe that very soon we will be able to read Old Testament".
Beena and the women in her family leapt at the chance to overcome the obstacles and commit to learning literacy skills, moving from darkness to light.
The gift of literacy has opened up their lives, and they have responded by seeking to know more of God. Beena is full of gratitude for the opportunity provided by Bible Society Pakistan, for her pastor, and for her teacher who taught her with such commitment.