The future is far from certain for any of us, and the ability to face it confidently is something we all strive for. For some families and children in Nicaragua, facing the future becomes almost impossible when they receive the fearful diagnosis: cancer.
Realising the desperate need of these children and their families, the Bible Society of Nicaragua (BSN) has founded the 'Hope and Smiles for Children with Cancer' project at the Manuel de Jesus Rivera La Mascota Children's hospital, doing all they can to help these families face the future with faith. A team of doctors, nurses, pastors and volunteers assist with both practical and spiritual needs, providing extra nursing care, nutritional support and assistance with transport costs, free Bibles, prayer and the opportunity to read God's word together with those who understand.
Alexander and Juanita – A new life and hope found in God
"I want to speak about Jesus with my story," says eight-year-old Alexander, a survivor of bone cancer, and the amputation of one leg, "because Jesus has been good to me." Alexander is a much- beloved only child, whose future was thrown into uncertainty when an injury to his leg resulted in a diagnosis of cancer, with the immediate treatment of amputation. "We felt our world fall apart," his mother, Juanita said, crying as she remembers. "We felt like we were losing our son, because we didn't know what his life would be like without his leg. And what would our lives be like without him?"
"We didn't understand what God wanted from our lives, because we felt like he wasn't there in that moment." The same day, volunteers from Bible Society arrived at the hopsital, and on hearing Alexander's situation, prayed for him. Juanita joined the prayer group, and the meditations, to receive spiritual support. She received a Bible. "This is the way God has spoken into my life, and his support is evident," she shares.
"Thank God, because he has made my son stronger to endure radiation therapy and other medication. Now my child is recovering. The doctors would not give us any hope for Alexander, but God did give us new life for my child. God always heard our prayers," Juanita concludes.
Carlitos and Don – Realising God's goodness and presence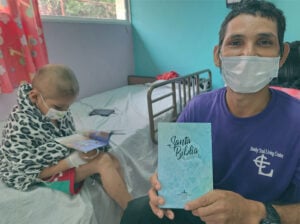 Don, from a farm community in Prinzapolka, has experienced the same helplessness and uncertainty. Two hours away from the capital city, he and his wife with their five children were content in their farming community and were dedicated to fishing. They had no need to go to the capital until their youngest son, Carlitos, continued to get weaker while playing, rather than better.
At six years old, Carlitos was transferred to La Mascota children's hospital with suspected cancer. "We thought for a moment we would lose him," Don says. "But God has been good, because he has been with us." Carlitos was diagnosed with leukaemia. "When we came to the hospital we felt alone, but we knew about the ministry of the Bible Society where every week the brothers give us spiritual and material support. There we received my Bible, and my child's, for free. I know that we are far from home, but I have also learned to trust that God is taking care of my family."
Dayara and Yuri – Finding strength in God to overcome
When her five-year-old daughter, Dayara, was diagnosed with cancer, Yuri could only imagine death in their future. "I never imagined living the experience of one of my children going through cancer," she says. Yuri felt completely powerless. With a cancer diagnosis for Dayara, and her health out of Yuri's control, the Bible Society spoke into her life. "I felt alone," Yuri recalls, "When the brothers of the Bible Society told me about Jesus, I had to receive him in my heart. Since the time I decided to meet Jesus, I have felt that only God has given me the strength to overcome the diagnosis of cancer — especially cancer in my most loved one, my child."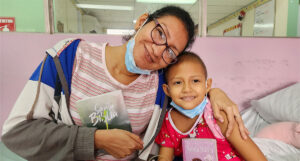 Yuri is a frequent participant in the Bible studies BSN runs. "I like to participate, because I learn more about God, and strengthen my faith in him." In fact, Yuri has done more than strengthen her own faith, with BSN volunteers reporting, "She is a very dynamic and active woman." Yuri interacts with the other parents in the hospital wards, "motivating them to pray before going to sleep, and offering thanksgiving to God for each day in the lives of their beloved children, despite any situation." With the doctor's permission to take Dayara home, Yuri concludes, "God has been good, because even in these hospital walls, we know that God is with us always."
José and Fatima – A future filled with God's word
Every day at the hospital, families are equipped with faith to face the future. Soccer-loving, José is a dynamic teenager who was brought low with leukaemia. A distinguished student at school, José's future became uncertain and filled with pain.
Yet at the hospital, while receiving treatment, José and his mother Fatima were equipped with faith in God. "Every day we are trusting God that we can go home soon," Fatima shares. "I remember when we arrived at the hospital, my son was on the brink of death, but God took care of him." Bible Society volunteers gathered around José and Fatima, praying over him, providing moral and spiritual support through devotionals and Bible studies.
Fatima now looks to the future with hope. "When my son grows up, he wants to become a missionary of God, and I will be there to support him to fulfil his dream." José now yearns to become an evangelist, a missionary who takes with him the word of God to people in need; the same way he received God's word during his hospital stay.
Jake and Lizzethe – Learning to know and trust God at all times
"My son came to this hospital with a tumour that was almost twice the size of his head, with intense pain, and unable to do anything. I felt helpless in that situation that we lived," Lizzethe said to BSN staff after a devotional time at the Manuel de Jesus Rivera La Mascota Children's hospital.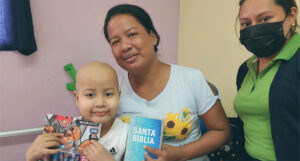 Transferred to the hospital with only the clothes she and her son, Jake, wore, it was only when the BSN volunteers at the hospital began to share with them every week that Lizzethe began to know God. With the free Bibles she and Jake received, Lizzethe says, "We have learned to fall
in love with God for his goodness. In the midst of all pain and medical prognoses, God has cleansed my tears [and given me] joy in my heart." Eight- year-old Jake is now out of danger, following surgery at the hospital. "The hospital has been a place of pain, but also a place where I have learned to know and trust God at all times," says Lizzethe.
Would you consider supporting more work like this? Sow the seeds of faith for the future here.